University of British Columbia
Current Members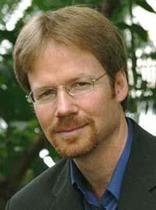 Dr. Loren Rieseberg
Principle Investigator
The dramatic, human-mediated transformations associated with plant domestication provide a model for studying phenotypic evolution. My lab has exploited this situation by studying the domestication of sunflower. Current work includes a large-scale search for associations between sequence variation at candidate genes and domestication traits, and genome scans using next generation sequencing approaches to search for regions of the genome that have undergone selective sweeps during domestication and improvement.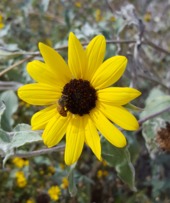 Dr. Sariel Hubner
Postdoctoral Fellow
Sariel is currently working to characterize the diversity across the sunflower germplasm and further improve the sunflower genome assemblies. In addition, Sariel has collaborated with a number of external groups to develop large-scale variant calling pipelines, which have been utilized as part of the sunflower genome project.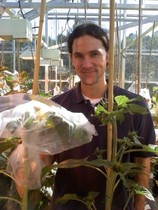 Dr. S. Evan Staton
Postdoctoral Fellow
My primary interest is in understanding how transposable elements contribute to the evolution of their hosts. To better understand questions in this area of research, I am actively developing a number of software tools to enable more accurate transposon descriptions (see the github link by my name). My current focus is on understanding the timescales of transposon amplifications throughout the history of the plant kingdom. Aside from my transposon work, I am currently collaborating on a number of phylogenomic projects related to genome evolution, and much of my time is spent improving gene annotations.
Former Members
Thuy Nguyen
Frances Raftis
Nadia Chaidir (currently JGI)
Greg Baute (currently Monsanto Co.)
Matthew King (currently Pioneer Hi-Bred)
Chris Grassa (currently Harvard U.)
Nolan Kane (currently U. Colorado)
Navdeep Gill (currently U.C. Davis)
Matteo Buti (currently Institute Fondazione Edmund Mach)
Dan Ebert (currently University of New England)
INRA Toulouse
Nicolas Langlade
Jerome Gouzy
Patrick Vincourt
Sebastien Carrere
Helene Berges
Arnaud Bellac
Sonia Vautrin
Nicolas Helmstetter
University of Georgia
John Burke
Steve Knapp (currently Monsanto Co.)
John Bowers
Eleni Bachlava (currently Monsanto Co.)
Jennifer Mandel (currently U. Memphis)
Jessica Barb (currently Iowa State U)
Ben Hsieh
Adam Bewick
Scientific Advisors
Brad Barbazuk, University of Florida
Carl Douglas, University of British Columbia
Catherine Feuillet, INRA
Scott Jackson, University of Georgia
Steve Rounsley, University of Arizona